TAORMINA AND BELLA ISLAND THE PEARL OF IONIAN SEA
On board of Dorado "32" boat you can better admire the coastline of Taormina and Giardini Naxos.
The coastline of Taormina and Giardini Naxos are among the most beautiful of Sicily, full of caves, stacks, bays, gulfs, fauna and flora.
During the excursion, their natural beauty is enchanting for photography and videos lovers.
From the boat it's possible to take pictures and videos of the colorful panorama rich of flora.
This coastline is situated in the Ionian side of Sicily, in front of the Strait of Messina and it is dominated by the impressive Mount Etna, the biggest volcano of Europe.
The excursion develops along the coastline, sailing along Capo of Naxos, Bay of Naxos, the Grotto of the Day, Capo Taormina, Bella Island, Blue Grotto, Bay of Mazzarò and at last Bay of S. Nicola.
Operative
Meeting h 10,00 – Return h. 18,00.
Leaving at 10.15 we'll get to Capo of Naxos in less than 35 minutes in a pleasant sailing, passing through the Bay of Pozzillo, the Capo of Torre Archirafi and the Gulf of Riposto.
Getting to Capo Taormina we'll start snorkeling and bathing in the most beautiful areas of Bella Islands until the break in which we'll have lunch and relax for a pair of hours. In this time you can eventually try "sea baptism", also known as Bubblemaker.
At about 15.00 we'll get to the Blue Grotto and stop here for about 30 minutes to swim, then we'll leave again towards the Bay of Mazzarò to admire the famous beaches of the Bay of S.Nicolò frequented by V.I.P.
At 16.00 we'll leave again to reach "the rock of Uncle Gennaro", a rock in the middle of the sea perfect for snorkeling and then we'll come back to Stazzo.
INCLUDED: Snorkeling set (flippers, snorkel and mask), buoy signal (one each two people), shorty.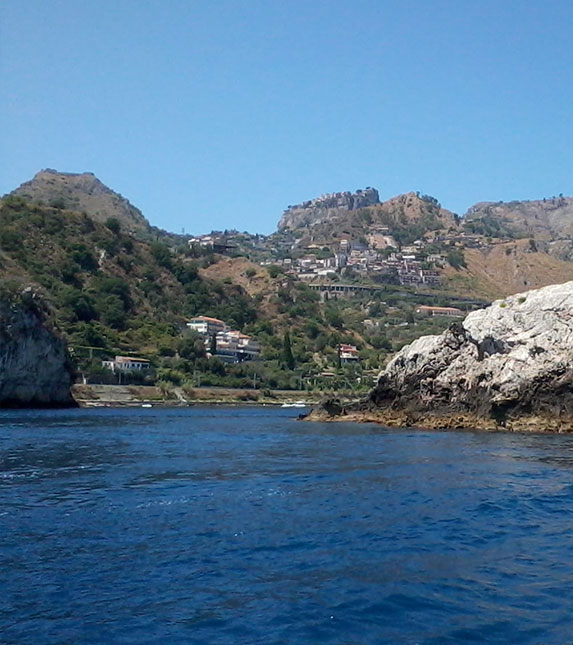 FOR MORE INFORMATION ABOUT TERMS AND CONDITIONS CONTACT FARO DIVING CATANIA
Packages sold with LETIPA VIAGGI tour operator technical organization