2017 PADI diving courses Price-list
PADI RECREATIONAL COURSE
Which opportunity better than a vacation in the beautiful sea of Sicily during which learning to dive with a DIVE CENTER 5*, the best that a Diving center can offer in terms of quality, comfort and safety!
Practical lessons are taken directly in the sea, a few meters away from the diving, in a peaceful and splendid cave right next to the main winds and closed to sailing.
ADVANTAGES
IN OUR CENTER YOU CAN BOOK YOUR PRIVATE LESSON WITH OUR TRAINER SO THAT YOUR LEARNING WILL BE SUPERIOR THAN ANY COURSE IN GROUP.
COLLEGE FORMULA
The formula "college" gives you a wide range of advantages than course organized in the city. You will take the course directly in the sea leaded by the most prestigious diving center that will captivate you as a very professional team can do.
Courses are combined with staying in the formula "Blue week" in the period you chose, with a saving up to 50%. Basically with the same cost of the course you can have a holiday week in Sicily included plus diving for leisure in the beautiful seawater of the Ionian sea.
This represents a good chance for those who want to come closer to the diving world comfortably lodged in OUR PARTNER. The College Formula can be enlarged to all the levels of diving patents released by our diving center, even professional levels.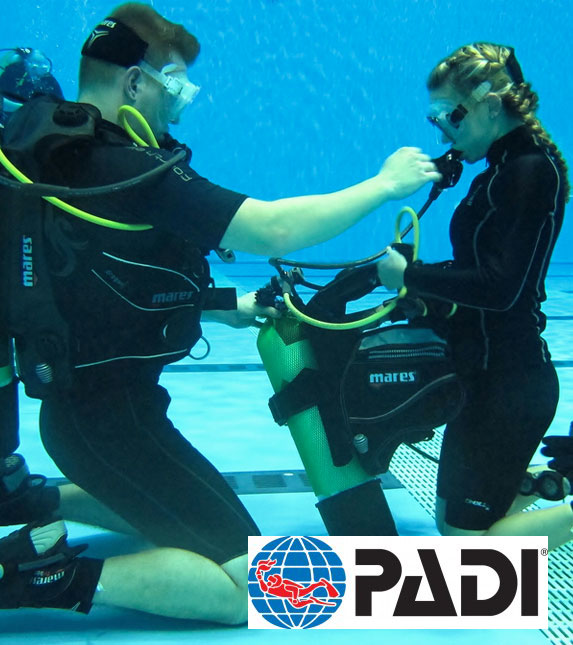 DISCOVER SCUBA DIVING EQUIPMENT INCLUDED PRICE EURO 45

DURATION 2/3 HOURS
Meglio conosciuto in Italia come "battesimo del 'immersione" a questo corso possono partecipare persone dai 10 ai 90 anni sapendo nuotare permettendo di fare le "prime bolle"sott'acqua per 30 minuti in compagnia di un istruttore qualificato.
Il battesimo e'preceduto da una spiegazione di circa 20 minuti sul mondo subacqueo,l'attrezzatura,il comportamento,e le regole base dell'immersione. Abbiamo la fortuna di essere collocati fra colate laviche e crateri subacquei effettuiamo i battesimi dentro dei crateri subacquei come se fossero delle piscine naturali per farvi vivere un esperienza fantastica.
SCUBA DIVER FULL EQUIPMENT INCLUDED EURO 150

DURATION 2 DAYS
Better known as "sea baptism" in italy, this course can be taken by people from 10 to 90 years old able to swim so that they can make their "first bubbles underwater" for 30 minutes, leaded by a qualified diving trainer.
Before the "baptism" we will take a 20 minutes-briefing about the underwater world, the equipments, the behavior and the diving rules. fortunately we are located among lava flows and underwater craters. the baptisms take place inside the underwater craters as these are natural pools, in order to let you live a fantastic experience.
OPEN WATER DIVER FULL EQUIPMENT INCLUDED SPECIAL PRICE EURO 330

DURATION 4/5 DAYS
It's a diving patent that allows to dive in pair, without supervision, applying the knowledge and the techniques learned during the course, at a depth of 18 meters. The necessary theoretical knowledge has to be learned in five educational sessions with your trainer, studying the textbook by your own and examining videos and other multimedia supports; together with the theoretical lessons, eight dives are integrated in order to put into practice what you learnt in classroom. Minimum age 10 years old.
Beginners course include: total equipment, educational material "kit PADI" and sea excursions on boat.
N.B. One "session" is the same of a theoretical /practical lesson in the morning and/or afternoon.
ADVANCED  OPEN WATER DIVER SPECIAL OFFER EURO 260

DURATION 4/5 DAYS
It's more complete than Adventure Diver because adventure diving consists in a five dives with the obligation to do a deep dive and a sailing dive. Before each dive, divers read the textbook and do a Review of knowledge making a accurate briefing with the trainer. This diving patent is also a necessary precondition to continue PADI diving education. Maximum depth 30 meters. Minimum age 12 years old. Precondition: Open Water Diver patent or the equivalent.
Adventure diving types that can be chosen together with the trainer are the following:
diving from the boat, maximum execution of the equipment, MULTILEVEL and with a computer, naturalist diver, sailing, night diving, deep diving, diving on wreckage, diving in flowing, etc.
N.B.: each dive during the course of Adventure Diver or Advanced Open Water Diver can be validated as the first of the equivalent PADI course, and analogously the first dive of the course can be considered as precondition for the diving program "Adventures in Diving".
NITROX EURO 180

DURATION 2 DAYS
PADI Enriched Air Diver course is the most well-known PADI course and it's easy to know why: diving with Nitrox enriched air allows you more time of not decompression. It means having more time underwater , particularly during recurring dives.
What you learn
You learn the techniques to stay longer underwater thanks to the air enriched with nitrox.
Considerations about diving equipment with enriched air.
Considerations about enriched air including the management of the exposition to oxygen, such us discovering what is inside your cylinder and how to regulate your diving computer.
DEEP DIVER EURO 180

DURATION 1 DAY
The course PADI Deep is addressed to those that are at least 15 years old and to those that want to feel the adrenaline of great depth. The mystery and the darkness of those depth fascinate and capture every divers.
During the course Deep PADI you learn the techniques for diving between 18 and 40 meters of depth and the considerations about the diving equipment used for deep dives.
The training of the experience is fundamental for the planning, the organization and execution of at least four deep dives under the supervision of your PADI instructor.
RESCUE DIVER EURO 360

DURATION 4/5 DAYS
It represents a crucial step to expand the knowledge and the experience of a diver beyond the merely recreational level. Rescue Divers not only learn to take care of their selves but above all they learn to take care of the others divers. Divers are prepared to prevent problems and to control underwater emergency.
It's structured in 5 theoretical sessions in classroom and 5 underwater practical sessions during which 12 possibly real situations are reproduced. Minimum age 12 years old. Precondition: Advanced Open Water Diver patent and in the previous 2 years the diver must have taken a MEDIC FIRST AID course.
DIVE MASTER SPECIAL PRICE EURO 700
It's the first professional level in diving training. Dive Master improves your ability of problem solving developed during the Rescue course and increases the ability of managing and predicting accidents up to the supervision of diving students and divers. The theoretical fundamental knowledge is at a professional level. The course is divided into five theoretical sessions and 10 dives during which you will improve your diving ability, consider your resistance ability and apply the theoretical knowledge. Minimum age 18 years. Precondition: Advanced Open Water Diver and Rescue Diver or the equivalent.
It's a basic training for cardiopulmonary resuscitation and emergency care. The practical part of the advancement course takes place through diving in the morning, while the theoretical part takes place in the excursions field or in our center, according the specialty you chose. Advancement courses don't include standard diving equipment.
RECREATIONAL COURSES: SPECIALTY
DETAILS
PEAK PERFORMANCE NATURALIST
Major execution of the arrangement
2 dives
UNDERWATER NATURALIST
Naturalist diver
2 dives
DRIFT DIVER
Drift diving
2 dives
BOAT DIVER
Diving from the boat
2 dives
MULTILEVEL DIVER
Multilevel diving
2 dives
UNDERWATER PHOTOGRAPHER
Underwater photographer
2 dives
DIVER PROPULSION VEHICLE
Diving with propulsion vehicle
2 dives
ENRICHED AIR DIVER
Enriched air diving
2 dives
FOR MORE INFORMATION ABOUT TERMS AND CONDITIONS CONTACT FARO DIVING CATANIA